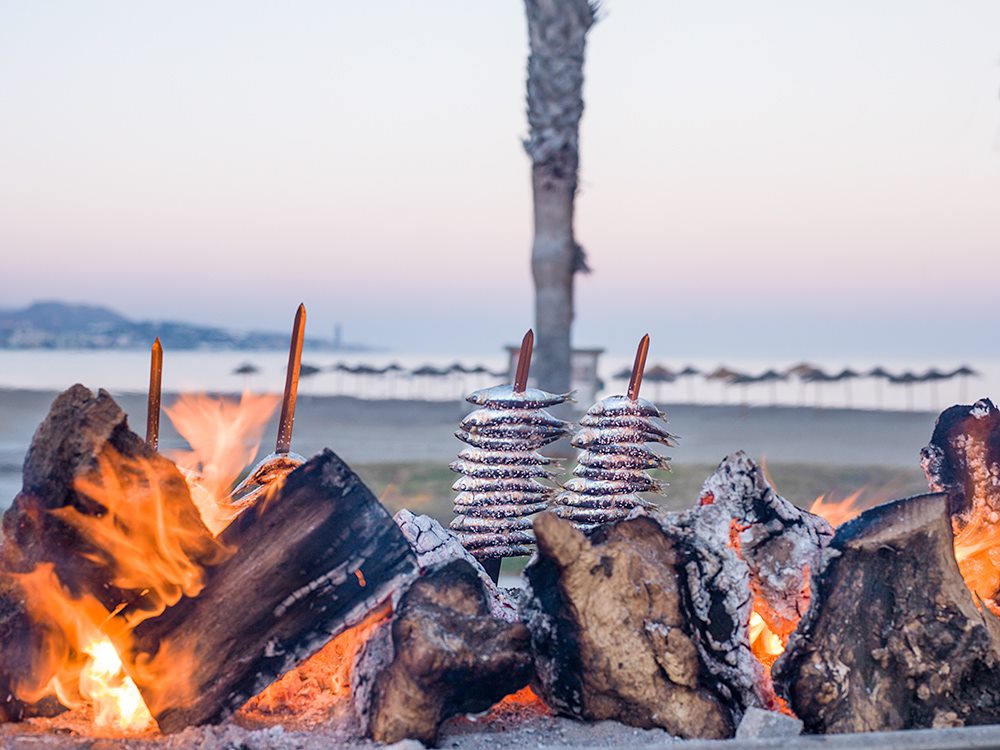 Photo: Málaga Turismo
The best espetos in Málaga
From June to November, sardines reach their point of maximum delicacy and, according to Malaga's tradition, the espetos take over restaurants and chiringuitos in front of the beach.
The espeto is a way of cooking that dates back to the 19th century and has passed down from generation to generation until nowadays, becoming Malaga's sign of identity.
The traditional technique consists of setting a series of fish, mainly sardines, on a river rod and sticking it in the sand next to the fire (or in a fishing boat prepared with embers), to grill them. Art that only a few master.
We suggest a route through the great classics for you to enjoy the most authentic Mediterranean essence, with this gastronomic delicacy.
Pedregalejo
Considered the heart of espeto, the Pedregalejo neighbourhood is a must. Here the art of mastering the barbecue is part of the DNA of its espeteros. We highlight Los Cuñaos, one of the favourites of the locals of Malaga, where you can also enjoy its famous fried fish; and Miguelito el Cariñoso, known for their espetos and seafood rice dishes.
El Palo
We move to the coast, to the neighbourhood of El Palo to enjoy delicious sardines and fried fish at the legendary El Tintero. Or we visit El Zagal, another of the well-known chiringuito that cannot be missing from this list of great classics, to enjoy a meal with your feet in the sand and the gentle sea breeze.
Malagueta Beach
In the main beach of the city, several beach bars are also worth visiting. Among them, we highlight Tropicana, a chiringuito located on the beach, famous for its espetos. Here you can see how the espeteros prepare and cook the sardines in the fishing boats by the sea. An authentic Andalusian experience that we invite you to discover.